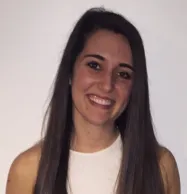 Alexandra Bletsis, MS - Counseling Psychology & Psychotherapy I am a mental health counselor and psychotherapist currently based in Greece treating patients globally. I am bilingual speaking both English and Greek.
My Master's Degree is in psychology, mental health counseling and psychotherapy. My Bachelor's Degree is in biology and bioethics. I plan on continued education and research in neuropsychology as evidence is showing us the connection between therapy and neuroplasticity to bring about positive change.
I currently treat young adults and adults virtually using an integrative approach with a focus on Cognitive Behavioral Therapy (CBT). I feel that it is important for patients to understand how their thoughts, emotions and behaviors are intertwined and play a role in their mental health. I also believe that change comes from within and therefore I work on empowering my patients to learn how to help themselves by giving them the tools, guidance and support they need to live the life they want to be living.
I find it important to volunteer my time at The Smile of The Child, Athens, Greece for families and children in need.
During my leisure I enjoy
Soccer, Painting, Traveling, Piano, Sailing